On July 7th several members of Circle City Zymurgy and volunteers from the Whitestown Methodist Church helped Habitat for Humanity in a project called the House that Beer Built. The project is a way for craft brewers and homebrewers to give back to the community.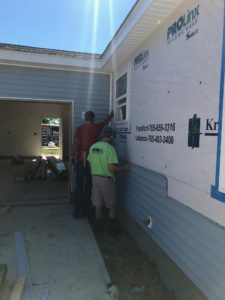 It was a beautiful, cloudless day though hot. Work was steady and hydration was very important. Two houses on the site were well into the build process that day. One was a red house that was further along. Cabinets were already installed in the kitchen area and all of the siding was installed on the exterior. The other house was a light blue color and needed more work done. As pictured a couple of the sides still needed siding put up. Sanding of the interior floor was done before subflooring installed for the laminate that will go on top of that.
We split up between the two houses and worked until noon when we stopped for lunch. Lunch was supplied by the Whitestown Methodist Church. All of the food was delicious and much appreciated.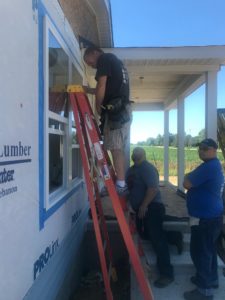 After lunch we went back to work, most of it being focused on the light blue house. More siding was put up and the laminate flooring was installed in the living room. Around 3:30 we wrapped work up, cleaned up the site and went home.
It was a great experience to give back to a community that supports local craft brewers. We at Circle City Zymurgy look forward to further opportunities working with Habitat
for Humanity.