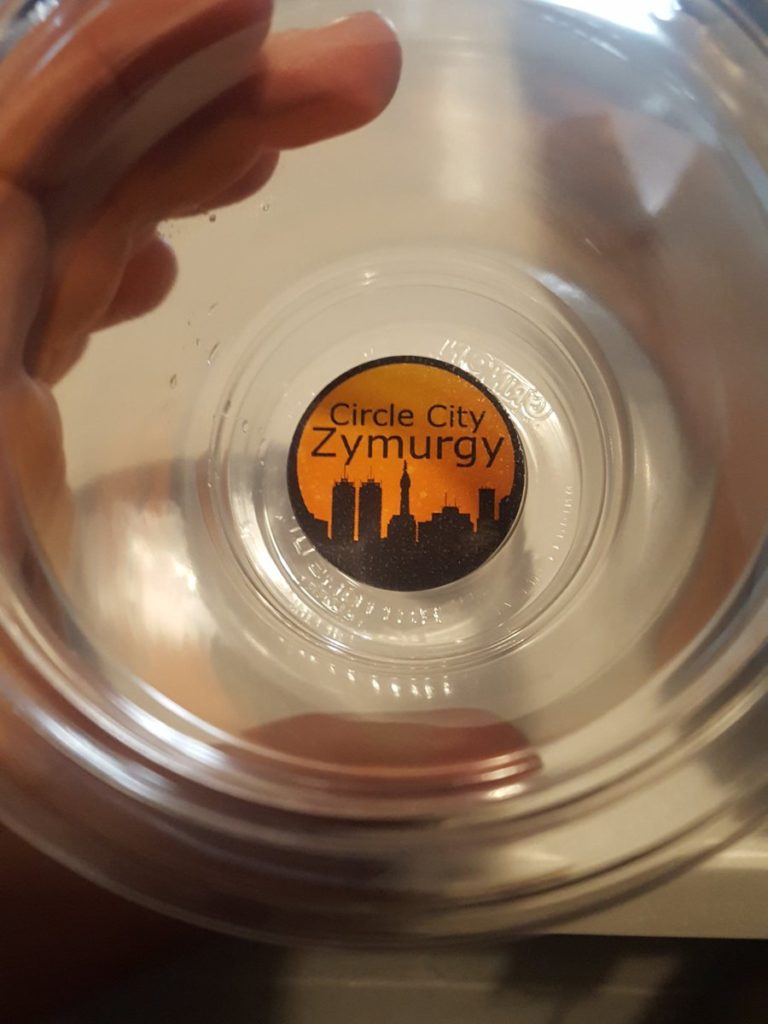 On Friday July 21, Circle City Zymurgy participated in the July gathering of the Indiana On Tap Tasting Society. The goal of these events is to showcase our state's fine breweries and/or the beers available throughout the state by bringing something special and different to each event. In fact, no two monthly events are the same. The events are intimate–think more of a swanky party instead of a beer festival. What's cool about this is attendees had plenty of opportunities to talk to the brewery staff and the brewers themselves. As a bonus, these tasting society events are also Indiana's premier venue for trading rare and hard-to-find beers from all over the state and the nation.
CCZ members including myself, Nick Boling, Jonathan Marting, and Matt and Lauren Wolford had a great time pouring our beer and representing the club. Joining us were Rhinegeist Brewery from Cincinnati and Creatures of Habit from Anderson, IN. For this event, Indiana on Tap partnered with Bottom's Up, which meant we got to serve our beer on their awesome draft system. Thank you to Bottom's Up for providing pouring enjoyment for our crew! As the indoor temperature rose to meet that of the outside, the event space filled with throngs of thirsty beer geeks. Having the premier pouring space, most guests queued up in front of the Circle City Zymurgy booth. We started the night with a broad spectrum of brewing styles for the tasters; Russ Der Cogburn Lemon Shandy, A Southerner in London (A hazelnut praline English mild), Meeb's Milk Stout and Grapefruit Baby Doll (An American pale ale enhanced with Amoretti Ruby Red Grapefruit artisanal flavoring). The CCZ line quickly became THE place to be with lines surpassing all other pouring stations for a majority of the night. As the night progressed so did our lineup of tasty malt beverages, such as Mr. Mild Mannered (English Mild), Juicy Lucy New England IPA, 124 Conch Street (Pineapple Wheat) and Tears of a Wookiee American pale ale). All told, the CCZ crew floated 8 kegs in less than 3 hours, while Rhinegeist and Creatures of Habit had a sufficient supply of brews on tap. The ambiance was a hip and cool with party tunes provided by DJ 3pm, beer flavored cupcakes by Tipsy Turvey of Anderson, handcrafted pirogi from The Pirogi Truck and craft hard sodas from Garden Party Botanicals.
Overall this was a very successful night of pouring for CCZ and the club members who participated. With this being a monthly event, there will be plenty of opportunities for other members of the club to participate, however, be prepared to meet the high expectations set by the inaugural crew and remember to bring PLENTY of beer!
[slideshow_deploy id='1130′]
Thank you to CCZ member Rob Ecker for this recap. This blog post has been edited and condensed for clarity.