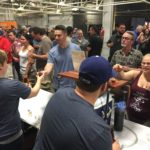 The Indiana Brewers Cup is kind of a huge deal. Over 1500 entries (both homebrew and professional) are judged by dozens of certified judges. Competition is fierce, and should you happen to win here, you can consider yourself one of the best homebrewers in the Midwest. Think of every other festival as the regular season and this as the World Series. Even though Circle City Zymurgy has only been existence for four months, we came in to this granddaddy of homebrew competitions hoping we could make some noise. And while we came short of our ultimate goal of being crowned homebrew club of the year, we still had a very strong showing (and a heck of a lot of fun).
The tasting reception before the actual awards ceremony always promises a good time. It is set up like a low-key beer festival, only this time breweries and homebrew clubs are treated as equals. There six commercial breweries and eight homebrew clubs sampled out some of their best beer, cider, and mead (and even barrel-aged coffee!). Highlights of the evening included McClure's Orchard's Paige's Peaches and Razzled (a gold medal winner that night), The Tap's Double Barrel Buckshot (a smoked roggenbier), and the Broad Ripple Brewpub's Welcome to Helles (the homebrew best of show recipe from 2015). Circle City Zymurgy was there pouring, nestled right between The Tap and New Day Craft (and gleefully smuggling samples from each. We served a California Common, a gose with cucumber and jalapeno, a Flanders red with cherries, a Belgian sour with crab apples, and a Hefeweizen run through a Randall stuffed with blueberries. Lines were long and steady and our beers were roundly praised. Speaking of which, did you know that Circle City Zymurgy is on Untappd? You can check out all of our offerings and review our beers. Your support is valuable!
As for the awards ceremony, five Circle City Zymurgy members took eight ribbons, and we finished as the second most successful club at the event. Club results can be found on our events page and Full results can be found here. The awards ceremony got off to an emotional start when the Godmother of Brewing in Indiana (and, full disclosure, my employer) Anita Johnson won the Golden Growler Award (think of it as sort of a lifetime achievement award). It was also exciting and rewarding to see several of our professional compatriots bring home medals. Friends of the club Bier Brewery, Tow Yard Brewing Company, Grand Junction Brewing Company, Flix Brewhouse Carmel, McClure's Orchard, and New Day Craft all emerged highly successful.
But Circle City Zymurgy saved the best for last with our fun, rip-roaring, porkified after party hosted by our own Brady Smith. We had seven excellent beers on tap (including two award winners from that night), and the appetizers were a revelation. Highlights included bacon donut hole skewers, sopressata, and manchego cheese, and deviled scotch eggs. Outside people were hanging out, playing corn hole and beer pong, and enjoying a rare mild July evening. All this was soundtracked by the live bluegrass stylings of The Barefoot Hollers. From what I can remember, it was an excellent party (did I mention seven beers on tap?).
Whether they won awards or not, we are proud of all the club members who participated in the Brewers Cup. Their help coordinating our plan of attack and their willingness to step out of their comfort zones helped make this such a success. We only spent two months planning for the Brewers Cup and we still ended up with nearly seventy entries and eight awards. From here the sky is the limit.