Date/Time
Date(s) - 04/21/2018
All Day
Location
Black Acre Taproom
Categories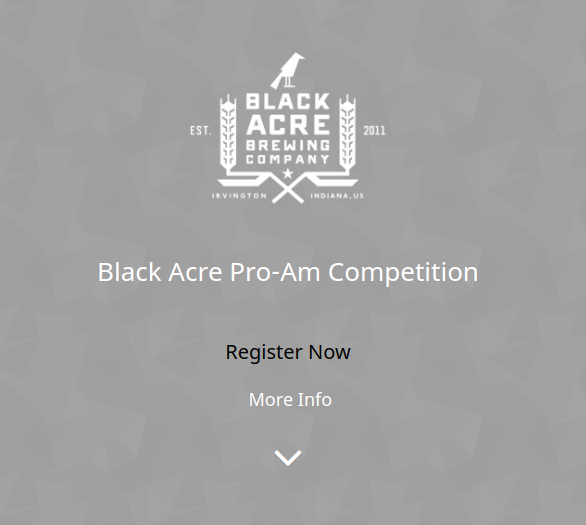 We are starting a new tradition! This is our first Black Acre Pro-Am Competition. Judging will occur on April 24th (and possibly the 25th as well, depending on entry numbers.) We will judge in the early evening at the Black Acre Production Facility. Judging teams will be composed of BJCP judges paired with a member of the Black Acre team. We are limiting the entries to 100 this year. We will be using the BJCP 2015 Style Guidelines for beer. https://www.bjcp.org/stylecenter.php
More information!
Entry Fee: $5, two entries maximum per home brewer or brewing team. You can pay by cash or a check made payable to Black Acre Brewing and should drop payment off with your entry.  You are encouraged to pay in advance via paypal.
Entry forms are found HERE. These forms need to include ALL brewer information, including beer style category and subcategory. Please note again, we will be using the BJCP 2015 style guidelines.
Brewers must supply two bottles containing at least 12 oz. each.
Brewers must have a printed label on each bottle. Templates for labels are found HERE. This is really important. -> PLEASE ATTACH YOUR LABELS TO BOTTLES USING RUBBER BANDS, DO NOT TAPE LABELS TO BOTTLES. Pro Tip: If you wish to protect your label, clear packing tape covering the front and the back is a cheap and easy way to laminate it prior to attaching to the bottle with a rubber band. Remember, no tape!
We will scan and email your scoresheets to you. Make sure your email address is legible. If you would like the originals as well, please include a self-addressed stamped envelope with your entry.
We will not accept any ciders or meads as we don't make those! Due to our small system and limited tank space, all beers must be fermented with only Saccharomyces strains and require less than two months from brewing to serving. Kettle soured beers are acceptable.
Entries may be dropped off or shipped to the Black Acre Taproom by Saturday April 21, 2018:
Black Acre Taproom, 5632 E Washington St., Indianapolis, IN 46219
The winner receives the traveling trophy we are still trying to design and they will get to brew their winning recipe at the pub brew house with one of the Black Acre brewers.
Pro-Am Competition
Submit beer by April 21st
Judging on April 24th
Traveling Trophy
Max 2 entry per person
Winner brews a batch on our pub system