Thank you to CCZ member Matt Wolford for writing this recap and for repping our club! If you have any ideas on how to contribute to our website, email erik@circlecityzymurgy.com.
---
Sorry this post came a week late, but in my opinion it's never too late to talk about beer.  It was a great weekend for a beer fest, but let's be honest, what weekend isn't great for a beer fest? Big shout out to Indiana Brewer's Guild for putting together a great event for everyone to come out and enjoy great craft beer from Indiana.  The weather cooperated and there was a lovely breeze that allowed participants to remain cool.  Circle City Zymurgy was well represented at the event; not only pouring for the first hour (and then some) but also as supporters of Indiana craft beer.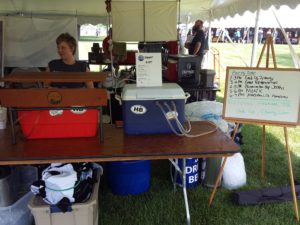 CCZ was granted the opportunity to pour during the VIP portion of the event.  Vickie Meehan and Mickey Bovin provided a zombie dust clone called Aim for the Head and a Dry Cherry Cider that was a huge hit.  My wife Lauren and I brought a SMaSH IPA called Hulk Smash and a Hefeweizen called The Noble of Hefe.  While the crowds for VIP session were a little sparse at our stand, we were able to keep the Cherry Cider and the SMaSH on tap during the first portion of general admission thanks to Great Fermentations.  The overall re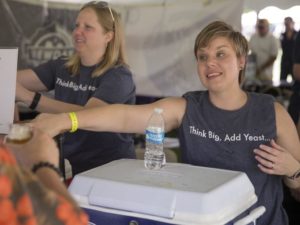 sponse to CCZ beers was outstanding as there were many compliments given and referrals sent to the booth asking for our beers.  We also received great feedback from some of the other brewers who stopped by and congratulated us on our wonderful beers and were kind enough to talk shop and share brewing knowledge.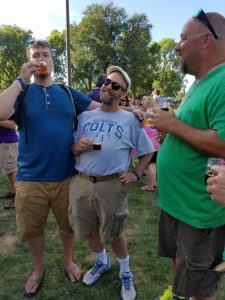 Once again CCZ is leading the way in producing great homebrew. We are always trying to deliver the best, most unique beer at festivals.  We were able to reach out to several members of the homebrewing community, and we will hopefully see our numbers grow as a result. Our participation also garnered Lauren a photo in the Indianapolis Star! (though the caption was attributed to Great Fermentations).  Awesome work by everyone involved, and onward and upward to greater zymurgy!