Last Saturday, Indianapolis got to experience the first of its kind: a festival devoted entirely to cider and mead. The Meadful Things and Outciders Festival was sponsored by Indianapolis' own New Day Craft. Co-owner Tia Agnew and everyone at New Day Craft deserve a big congratulations for hosting an entertaining, well-run festival (no small feat when it's the first year running a festival). Hundreds of craft cider and mead lovers descended on the Circle City Industrial Complex to sample the wares from over thirty artisan cider and mead makers from the Midwest as well as such far-flung places as Galicia, Spain, Northern California, and South Africa.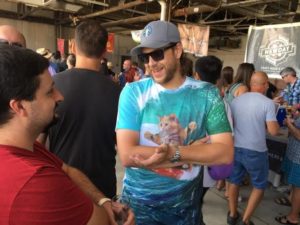 The last decade has seen a boom in the popularity of hard cider. And, yes, most of this is thanks to sugary, artificial-tasting alco-pops like Angry Orchard and Woodchuck (not to name names). But let's focus on the positives: people who learned about cider through these avenues are now exploring and discovering smaller craft cideries and meaderies. In turn, these craft cideries and meaderies are challenging their customers and themselves to produce unique, top-quality product. When my wife and I vacationed in Traverse City this past July, I was shocked to see a bar devote more than a quarter of its 46 tap draft list to ciders and meads. Indiana still has a ways to go to catch up to its neighbors in Michigan, but if this past Saturday is any indication this may soon be the rule here and not the exception.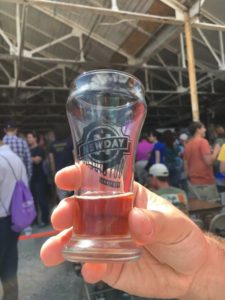 The creativity on display this past Saturday rivals what is going on in the American craft beer scene. Do you want to try a mead aged in a scotch barrel? What about a mead that tastes like a gin and tonic or a mojito? Maybe you prefer something a little simpler and want to stick with a dry cider. In that case, do you prefer American, French, or Spanish-style? Hell, there are even ciders and meads for the hophead in us all. New Day Craft came out with guns blazing, providing eight different ciders and meads, including a full keg of their Imperial Breakfast Magpie. I'm not ashamed to say I went back for seconds…and thirds…and fourths.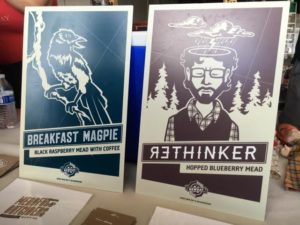 There were plenty of other standouts as well. Michigan's B. Nektar, which besides having some strange and aggressively-named (and delicious) meads, also had a Cherry Limeade for VIP customers that was very refreshing and tasted like the genuine article. Indiana's top cidery, McClure's Orchard, brought a wide variety of their most popular and tasty ciders. But the stealth MVP of the day would have to be Crafted Artisan Meadery in Northeast Ohio. They weren't even on my radar before that day, but they showed a lot of creativity with their meads and everything I had of theirs was uniformly great. Thanks to this festival, I also learned that I love French Cider. Dry, fruity, slightly tart, and heavily carbonated like champagne, it was the perfect libation for a warm September afternoon outdoors.
There was plenty of open air seating and three food trucks were on hand to make sure the slowly-drunken masses were well fed. And the smaller audience lent a friendly, laid-back vibe (and short lines). And did I mention there were puppies and kittens?! Since this was a charitable festival supporting the FACE Low Cost Spay and Neuter Clinic, they had several cute kittens and puppies to play with and hopefully adopt. I am going on record saying every beer and wine festival should have puppies and kittens. Make it happen. Having said that, there were some minor hiccups during the festival. Much of the venue was roped off due to ongoing construction. This meant that vendors were placed too close together, making for a bit of a crunch at the front of each line. Also many vendors seemed to run out of samples well before the 5 PM end time. But these are all things that can easily be fixed, and in fact, the construction will probably allow more vendors and a better venue in subsequent years. Lastly, with everyone pouring and drinking right next door to several art galleries, I would love to see that component integrated in subsequent years. Maybe have some of the galleries inside open for guests to browse, or have some resident artists display their pieces at the festival proper.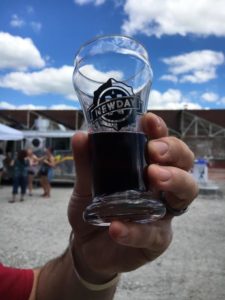 Overall, New Day Craft and everyone who volunteered put on an excellent festival. I would rank this just below Upland's Sour+Wild+Funk Fest and Sun King's Canvitational, which is an amazing feat for a first-year festival. As they continue to work out the kinks and attract more vendors, this could easily become Indianapolis' top drinking festival.